Tripura Open 2019 begins
Tripura Open 2019 got underway today in the beautiful Shahid Bhagat Singh Youth Hostel, Khejurbagan, Agartala. The event is organized by Matrix Chess Academy. A total number of 209 players are taking part with five titled players in this 5-day event running from 26th March 2019 until 30th March 2019. 5 titled players are competing in the event. GM Saptarshi Roy Chowdhury is the top seed followed by IM Neeraj Kumar Mishra and IM Suvrajit Saha. There was no major upset in the first round of the event but a couple of players were able to create good results in the special simul exhibition by GM Vaibhav Suri and IM NK Mishra. You will find in this pictorial report, everything that happened on day one in Tripura.
Tripura is blessed with natural beautiful water bodies, palaces, forest, and wildlife. The state is very rich in culture and it gets reflected through its historical monuments and heritage sites. When it comes to sport then it is best known for Padma Shri and Rajiv Gandhi Khel Ratna Awardee Dipa Karmakar who is the first Indian female gymnast ever to compete in the Olympics. In recent time chess has bloomed in the state under the mentorship of FM Prasenjit Dutta who has the vision to make the state as the chess hub of Northeast and also to produce the first IM from this region. Tripura Open 2019 is special because it the first International Open rated tournament of the state where titled players and players from different federations are taking part. The chess family of Tripura has been feeling blessed from the last couple of days not just because of the event but also due to the presence of GM Vaibhav Suri, India no.12 (with an Elo of 2589) for a special chess workshop.
The day started off with a simul exhibition by GM Vaibhav Suri and IM NK Mishra. 45 players took part and a couple of them were able to win their games. The best one being the win by 8-year-old Arshiya Das against IM NK Mishra.
Shri Udayan Sinha Director of Youth Affairs and Sports, Tripura while addressing in the opening ceremony congratulated Matrix Academy founder FM Prasenjit Dutta for taking the initiative to revive chess in Tripura and also assured that the government will help him in all of the future activities related to chess.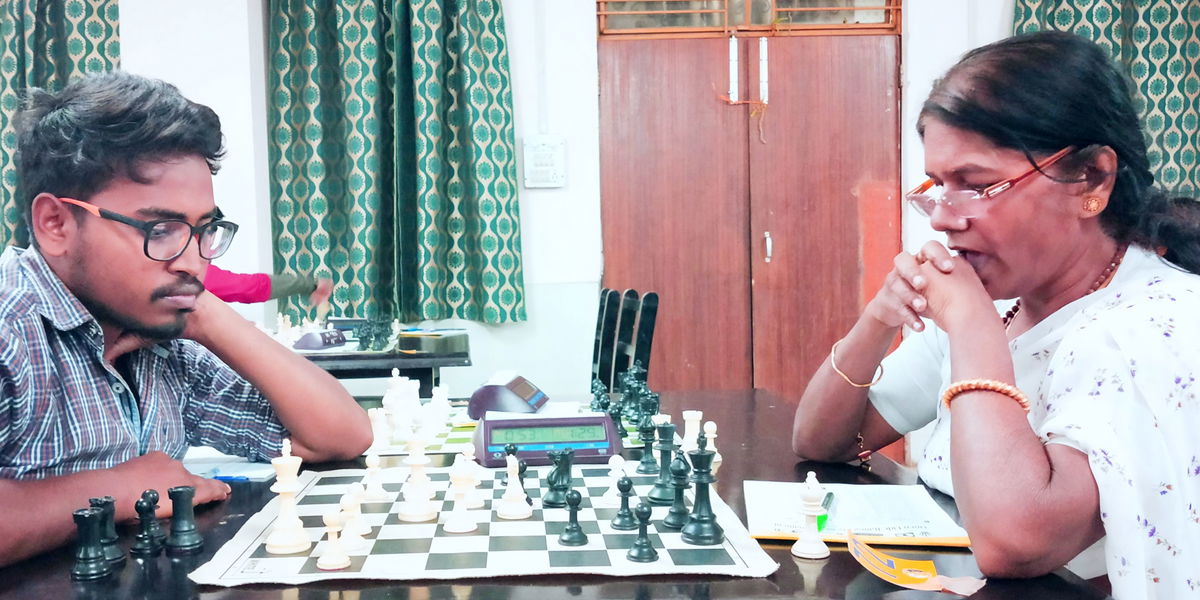 At the time of publication of this report, three rounds had been completed and these are the standings:
Ranking after round 3
| | | | | | | | | | |
| --- | --- | --- | --- | --- | --- | --- | --- | --- | --- |
| Rk. | SNo | | Name | FED | Rtg | Pts. | TB1 | TB2 | TB3 |
| 1 | 4 | | Singh S. Vikramjit | IND | 2210 | 3,0 | 0,0 | 4,0 | 6,0 |
| | 38 | | Bapu Debbarma | IND | 1431 | 3,0 | 0,0 | 4,0 | 6,0 |
| | 42 | | Tanisha A R Som | IND | 1417 | 3,0 | 0,0 | 4,0 | 6,0 |
| 4 | 160 | | Kinkar Roy | IND | 0 | 3,0 | 0,0 | 4,0 | 5,5 |
| 5 | 5 | IM | Ramnathan Balasubramaniam | IND | 2176 | 3,0 | 0,0 | 4,0 | 5,0 |
| | 6 | | Anustoop Biswas | IND | 2161 | 3,0 | 0,0 | 4,0 | 5,0 |
| | 8 | | Nath Rupankar | IND | 2022 | 3,0 | 0,0 | 4,0 | 5,0 |
| | 10 | | Suvradeepta Das | IND | 1997 | 3,0 | 0,0 | 4,0 | 5,0 |
| | 12 | | Nepal Prakash | NEP | 1961 | 3,0 | 0,0 | 4,0 | 5,0 |
| | 17 | | Iftikar Alom Mazumdar | IND | 1748 | 3,0 | 0,0 | 4,0 | 5,0 |
| | 21 | | Alekhya Mukhopadhyay | IND | 1609 | 3,0 | 0,0 | 4,0 | 5,0 |
| | 24 | | Arijit Ghosh | IND | 1559 | 3,0 | 0,0 | 4,0 | 5,0 |
| | 25 | | Sawyan Baran De | IND | 1556 | 3,0 | 0,0 | 4,0 | 5,0 |
| | 30 | | Rahul Yadav | IND | 1526 | 3,0 | 0,0 | 4,0 | 5,0 |
| 15 | 16 | | Das Monaj | IND | 1768 | 3,0 | 0,0 | 4,0 | 4,0 |
| 16 | 19 | | Soumyajit Das (Jr) | IND | 1628 | 3,0 | 0,0 | 3,5 | 4,5 |
| | 22 | | Sathyanarayanan S. | IND | 1604 | 3,0 | 0,0 | 3,5 | 4,5 |
| | 27 | | Dutta Umashankar | IND | 1541 | 3,0 | 0,0 | 3,5 | 4,5 |
---