Rupam Mukherjee dominates 2nd Maa Manik Memorial Rating Open 2022
Rupam Mukherjee scored a massive 9.5/10 to win 2nd Maa Manik Memorial Rating Open 2022. He won the tournament with a round to spare. Having a score of 8.5/9 heading into the final round, the teenager was a whopping 1.5 points ahead of the field. Last round result was immaterial for his championship chances, still he went on to win the game and make a dominating finish. Abhishek Sarkar scored a sole 8/10 to finish second. Five players made 7.5/10. Out of them, 11-year-old local girl, Arshiya Das was placed third according to tie-breaks. She is also the youngest to make a top ten finish in this event. The total prize fund of the tournament was ₹225000. The top three prizes were ₹33000, ₹23000 and ₹18000 along with a trophy each. Photo: Panna Ahmed
Rupam's second tournament victory of the year
Starting out as the sixth seed of the tournament, Rupam Mukherjee won the his second Classical event of the year. His first triumph was at the end of June when he won the 15th G H Raisoni Memorial Rating Open 2022. He followed it up with a second place finish at 4th Ayodhana Rating Open 2022. After winning 2nd Maa Manik Memorial Rating Open 2022, Rupam continued his momentum and finished third at West Bengal State Senior Open 2022.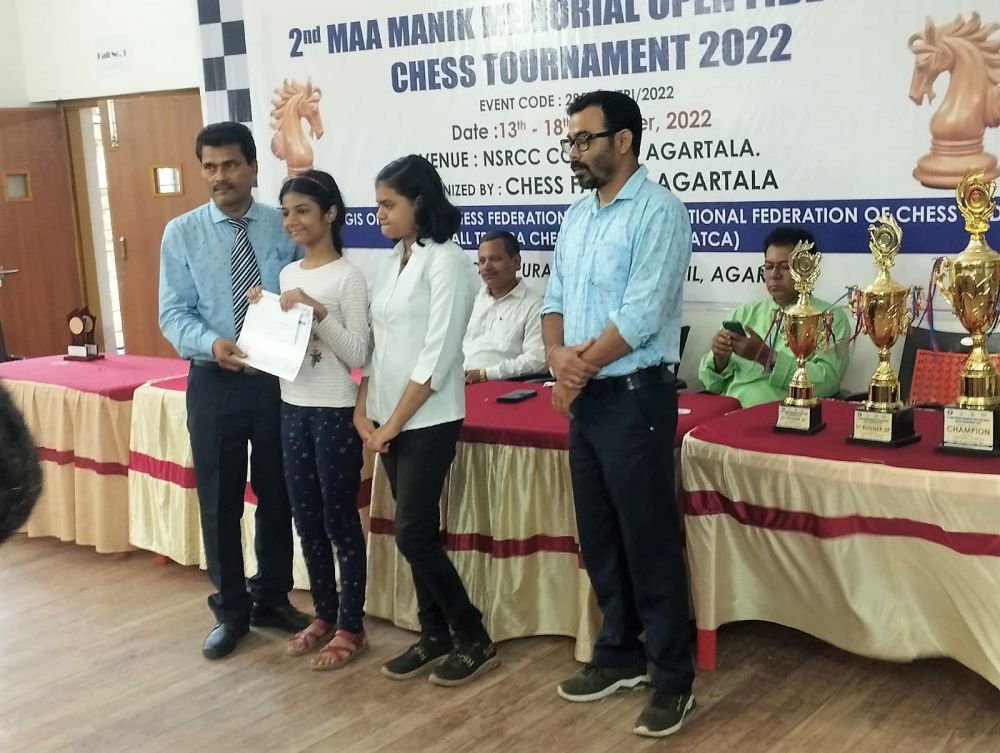 A special thanks to the Tournament Director, Panna Ahmed for sharing the photos.
A total of 146 players took part from various parts of the country and one from Bangladesh. The six-day ten-round Swiss league Rating tournament was organized by Chess Family, Agartala at NSRCC Complex, Indoor Hall in Agartala, Tripura from 13th and 18th October 2022. The time control of the tournament was 90 minutes + 30 seconds increment from move no.1.
Final Standings
| | | | | | | | | | | | | | | | |
| --- | --- | --- | --- | --- | --- | --- | --- | --- | --- | --- | --- | --- | --- | --- | --- |
| Rk. | SNo | | Name | Typ | sex | FED | RtgI | Bdld | Club/City | Pts. | TB1 | TB2 | TB3 | TB4 | TB5 |
| 1 | 6 | | Rupam Mukherjee | | | IND | 1799 | | WB | 9,5 | 62 | 66,5 | 62,75 | 0 | 9 |
| 2 | 2 | | Abhishek Sarkar | | | IND | 2002 | | WB | 8 | 64 | 69 | 52,00 | 0 | 7 |
| 3 | 13 | | Arshiya Das | U12 | w | IND | 1582 | | TRI | 7,5 | 59,5 | 64 | 44,25 | 0 | 6 |
| 4 | 24 | | Shankhadeep Maity | U16 | | IND | 1479 | | WB | 7,5 | 58 | 62,5 | 45,25 | 0 | 5 |
| 5 | 5 | WCM | Bristy Mukherjee | | w | IND | 1815 | | WB | 7,5 | 58 | 62 | 45,50 | 0 | 5 |
| 6 | 3 | | Sakhawat Hussain | | | IND | 1911 | | KAR | 7,5 | 56 | 61 | 42,50 | 0 | 7 |
| 7 | 19 | | Aniket Narayan Biswas | | | IND | 1500 | | WB | 7,5 | 56 | 60 | 41,25 | 0 | 7 |
| 8 | 1 | | Sambarta Banerjee | | | IND | 2026 | | WB | 7 | 64 | 69 | 45,00 | 0 | 6 |
| 9 | 16 | | Diganta Roy | U16 | | IND | 1540 | | TRI | 7 | 59 | 63,5 | 40,00 | 0 | 6 |
| 10 | 37 | | Bapu Debbarma | | | IND | 1380 | | TRI | 7 | 53,5 | 57,5 | 39,00 | 0 | 6 |
| 11 | 8 | | Elangbam Shashikanta Singh | | | IND | 1661 | | MANI | 7 | 53 | 58 | 39,50 | 0 | 5 |
| 12 | 25 | ACM | Parigyan Chakraborty | U12 | | IND | 1474 | | WB | 7 | 53 | 57,5 | 39,00 | 0 | 6 |
| 13 | 20 | | Piyal Roy Chowdhury | | | IND | 1498 | | ASM | 7 | 52 | 55,5 | 38,00 | 0 | 5 |
| 14 | 17 | | Ujaan Bhattacharya | | | IND | 1536 | | WB | 7 | 51,5 | 54,5 | 35,00 | 0 | 6 |
| 15 | 11 | | Kinkar Roy | | | IND | 1589 | | TRI | 7 | 51 | 54 | 36,50 | 0 | 6 |
| 16 | 79 | | Nikhil Kumar | U12 | | IND | 1166 | | ASM | 7 | 48 | 51,5 | 33,75 | 0 | 6 |
| 17 | 36 | | Gairick Saha | U16 | | IND | 1382 | | WB | 7 | 47,5 | 51 | 31,50 | 0 | 7 |
| 18 | 4 | | Kingshuk Debnath | | | IND | 1840 | | TRI | 6,5 | 57,5 | 61,5 | 37,50 | 0 | 6 |
| 19 | 34 | | Ishan Das | | | IND | 1394 | | WB | 6,5 | 56 | 60,5 | 36,00 | 0 | 5 |
| 20 | 43 | | Bora Mahendra | S50 | | IND | 1348 | | ASM | 6,5 | 55,5 | 58,5 | 34,50 | 0 | 6 |
| 21 | 22 | | Das Monaj | | | IND | 1492 | | ASM | 6,5 | 55 | 57,5 | 32,50 | 0 | 6 |
| 22 | 18 | | Rituraj Tamuli | | | IND | 1516 | | ASM | 6,5 | 54,5 | 59 | 36,25 | 0 | 5 |
| 23 | 27 | | Dutta Umashankar | S50 | | IND | 1454 | | TRI | 6,5 | 54,5 | 58 | 35,25 | 0 | 4 |
| 24 | 28 | | Anabil Goswami | | | IND | 1451 | | TRI | 6,5 | 52,5 | 57 | 36,00 | 0 | 6 |
| 25 | 53 | | Agrajit Paul | U14 | | IND | 1286 | | TRI | 6,5 | 52,5 | 56,5 | 33,00 | 0 | 5 |
---