Tripura Open 2019 Day 2+3: Major upsets on top boards
Tripura Open 2019 Day 2 and 3 saw some exciting games with a lot of ups and downs. While it started as calm as a millpond, slowly we witnessed some unexpected results on many of the top boards. Players of the 1500 rating club showed some strong nerves to create major upsets on the top boards. Top seed GM Saptarshi Roy Chowdhury was held by local player Kamal Kalai rated 1542, IM Neeraj Kumar Mishra went down against another local player Umashankar Dutta rated 1541 and IM Suvrajit Saha lost his game against Rahul Yadav rated 1526. This pictorial report covers the Day 2 and 3 of the Tripura Open with annotated games of the most decisive and major upsets.
Local players shine on day 2 and 3 of Tripura Open
Lots of sparks were seen on the 2nd day and 3rd day of the Tripura Open, especially on the top boards. It is always interesting when a lower rated produces a fine game to upset a titled player and that's what exactly happened here. It was not just one but three top boards that witnessed unpleasant results for the top seeds.
This beautiful final position was reached in the 2nd board game of local player Umashankar Dutta vs IM Neeraj Mishra. Rated only 1541 Umashankar Dutta played the best game of his life till date. Playing on home soil and having his wife and son at the tournament hall seemed to have brought out Umashankar's best chess.
Umashankar Dutta vs IM N K Mishra annotated by Ravi Kant Tiwari:
On the third board, everything was going good for the 3rd seed IM Suvrajit Saha. With some accurate play, he was completely crushing his opponent. Just when everything looked okay he blundered with 31.exd5 in the below position and went from +3 to -3 (stockfish evaluation). Rahul Yadav who is rated around 1526 realized that things were going his way and finished off his opponent.
Suvrajit Saha vs Rahul Yadav
IM Suvrajit Saha vs Rahul Yadav annotated by Ravi Kant Tiwari:
Saptarshi Roy Chowdhury vs Ramesh Kalai
The above position is from the top board where GM Saptarshi Roy Choudhury was paired against a local player Ramesh Kalai rated 1542. Ramesh was playing a competitive event after quite a long time. He played brilliantly and later accepted that it was one of his best games till date. He was happy to draw his game against a GM. The final position where he accepted a draw, was however winning for him.
GM Saptarshi Roy Choudhury vs Ramesh Kalai annotated by Ravi Kant Tiwari: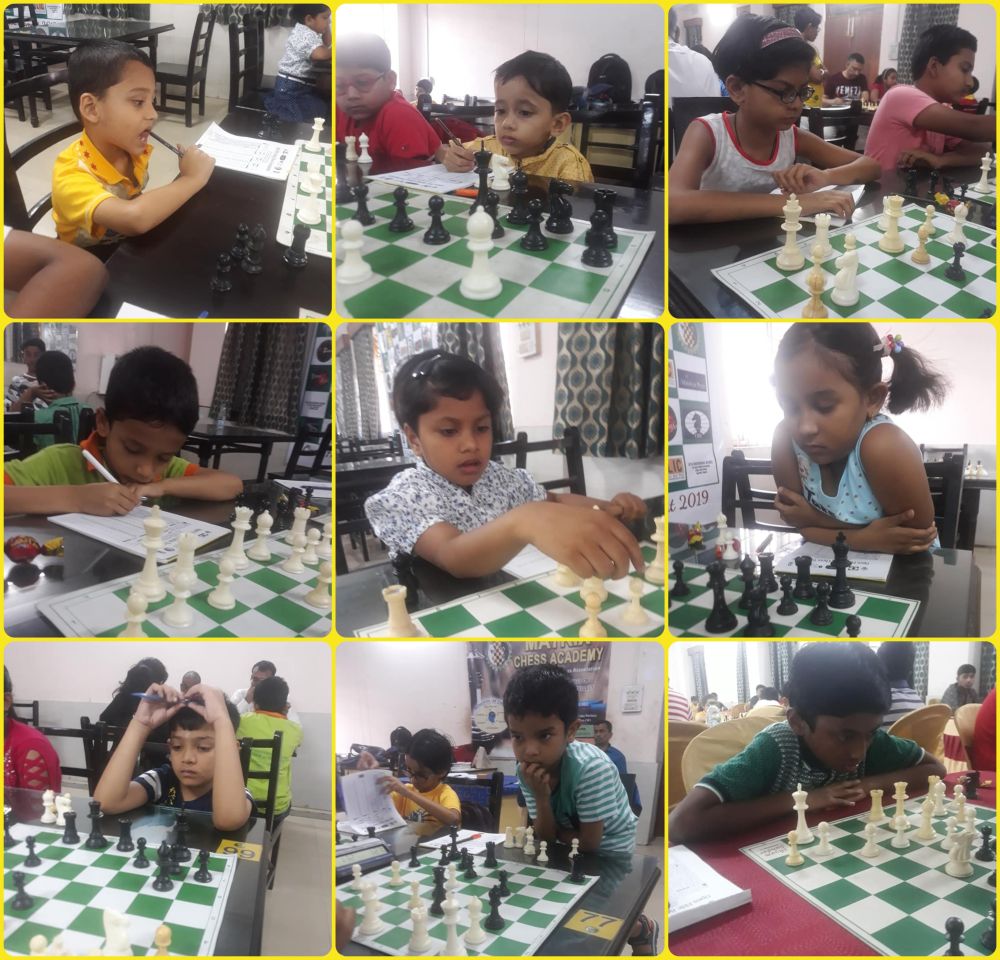 At the end of the 5th round, there were three players who were jointly leading the tourney and all of them hail from West Bengal.
Rank after Round 5
Rk.
SNo
Name
Typ
sex
Gr
Rtg
Pts.
TB1
TB2
TB3
TB4
TB5
Rp
1
6
Anustoop Biswas
2161
5,0
0,0
14,5
16,5
16,50
5
1864
2
8
Nath Rupankar
2022
5,0
0,0
14,5
15,5
15,50
5
1949
3
7
Arpan Das
2147
5,0
0,0
14,0
16,0
16,00
5
2346
4
10
Suvradeepta Das
1997
4,5
0,0
15,0
17,0
14,75
4
1896
5
5
IM
Ramnathan Balasubramaniam
2176
4,5
0,0
14,5
16,0
13,75
4
1847
6
1
GM
Roy Chowdhury Saptarshi
2296
4,5
0,0
13,5
16,0
14,50
4
1736
7
16
Das Monaj
1768
4,0
0,0
15,5
16,5
11,50
4
1564
8
4
Singh S. Vikramjit
2210
4,0
0,0
15,0
18,0
14,00
3
1780
9
12
Nepal Prakash
1961
4,0
0,0
15,0
18,0
13,00
4
1675
10
24
Arijit Ghosh
U16
1559
4,0
0,0
15,0
17,0
12,00
4
1461
11
38
Bapu Debbarma
1431
4,0
0,0
14,5
16,5
12,00
4
1781
12
22
Sathyanarayanan S.
1604
4,0
0,0
14,0
16,0
11,50
4
1536
27
Dutta Umashankar
1541
4,0
0,0
14,0
16,0
11,50
4
1782
14
17
Iftikar Alom Mazumdar
U20
1748
4,0
0,0
14,0
16,0
11,00
4
1611
25
Sawyan Baran De
1556
4,0
0,0
14,0
16,0
11,00
4
1664
16
160
Kinkar Roy
0
4,0
0,0
13,5
16,5
12,50
4
1850
17
30
Rahul Yadav
1526
4,0
0,0
13,5
15,5
11,50
4
1716
42
Tanisha A R Som
U14
w
1417
4,0
0,0
13,5
15,5
11,50
4
1639
19
19
Soumyajit Das (Jr)
U16
1628
4,0
0,0
13,5
15,0
11,25
3
1845
20
2
IM
Mishra Neeraj-Kumar
2264
4,0
0,0
13,5
14,5
10,50
4
1575
Note: Although this report is until round 5, at the time of publication of this article seven rounds have been completed. These are the standings:
Ranking after round 7
| | | | | | | | | | | | | | | |
| --- | --- | --- | --- | --- | --- | --- | --- | --- | --- | --- | --- | --- | --- | --- |
| Rk. | SNo | | Name | Typ | sex | Gr | Rtg | Pts. | TB1 | TB2 | TB3 | TB4 | TB5 | Rp |
| 1 | 8 | | Nath Rupankar | | | | 2022 | 6,5 | 0,0 | 29,0 | 31,0 | 28,00 | 6 | 2056 |
| 2 | 7 | | Arpan Das | | | | 2147 | 6,0 | 0,0 | 31,0 | 33,5 | 27,00 | 6 | 1923 |
| 3 | 10 | | Suvradeepta Das | | | | 1997 | 6,0 | 0,0 | 31,0 | 33,0 | 27,00 | 5 | 1894 |
| 4 | 6 | | Anustoop Biswas | | | | 2161 | 6,0 | 0,0 | 30,5 | 34,5 | 28,50 | 6 | 1896 |
| 5 | 5 | IM | Ramnathan Balasubramaniam | | | | 2176 | 6,0 | 0,0 | 30,5 | 33,5 | 27,25 | 5 | 1890 |
| 6 | 4 | | Singh S. Vikramjit | | | | 2210 | 6,0 | 0,0 | 29,0 | 33,0 | 27,50 | 5 | 1850 |
| 7 | 9 | | Singh Bhogen R K | | | | 2010 | 6,0 | 0,0 | 28,5 | 31,0 | 25,75 | 5 | 1782 |
| 8 | 1 | GM | Roy Chowdhury Saptarshi | | | | 2296 | 6,0 | 0,0 | 27,5 | 30,5 | 26,00 | 5 | 1832 |
| 9 | 13 | WIM | Chandreyee Hajra | | w | | 1927 | 6,0 | 0,0 | 27,0 | 30,0 | 25,00 | 6 | 1567 |
| 10 | 12 | | Nepal Prakash | | | | 1961 | 5,5 | 0,0 | 29,0 | 32,0 | 23,75 | 5 | 1703 |
| 11 | 21 | | Alekhya Mukhopadhyay | U12 | | | 1609 | 5,5 | 0,0 | 28,0 | 30,0 | 21,50 | 5 | 1627 |
| 12 | 2 | IM | Mishra Neeraj-Kumar | | | | 2264 | 5,5 | 0,0 | 28,0 | 29,0 | 22,25 | 5 | 1633 |
| 13 | 3 | IM | Suvrajit Saha | | | | 2221 | 5,5 | 0,0 | 27,5 | 31,5 | 24,00 | 5 | 1605 |
| 14 | 11 | | Singh Soram Rahul | | | | 1964 | 5,5 | 0,0 | 23,5 | 24,0 | 17,00 | 5 | 1397 |
| 15 | 19 | | Soumyajit Das (Jr) | U16 | | | 1628 | 5,0 | 0,0 | 31,0 | 32,5 | 20,75 | 4 | 1816 |
| 16 | 160 | | Kinkar Roy | | | | 0 | 5,0 | 0,0 | 30,5 | 34,5 | 23,50 | 5 | 1785 |
| 17 | 30 | | Rahul Yadav | | | | 1526 | 5,0 | 0,0 | 30,0 | 33,0 | 21,50 | 5 | 1707 |
| 18 | 17 | | Iftikar Alom Mazumdar | | | | 1748 | 5,0 | 0,0 | 30,0 | 33,0 | 20,50 | 5 | 1621 |
| 19 | 38 | | Bapu Debbarma | | | | 1431 | 5,0 | 0,0 | 29,0 | 32,0 | 21,00 | 5 | 1755 |
| 20 | 16 | | Das Monaj | | | | 1768 | 5,0 | 0,0 | 29,0 | 31,0 | 20,00 | 5 | 1584 |
---