Dinesh Kumar Sharma wins Smt. Aparna Dutta memorial All India Open 2021
IM Dinesh Kumar Sharma won his fifth event of the year as he scored an unbeaten 8.5/10 to win Smt. Aparna Dutta memorial All India Open 2021. Two more players - Praloy Sahoo and Alekhya Mukhopadhyay also scored 8.5/10. They were placed second and third respectively according to tie-breaks. Dinesh won ₹35000 cash, Praloy got ₹25000 and Alekhya ₹20000. All three of them won a trophy each. Total cash prize ₹251000 and 57 trophies were given as prizes. The legendary IM of Uttar Pradesh, shared five games of his, annotated with multiple variations and his thoughts during the game. Photo: FT FA FM Prasenjit Dutta/Matrix Chess Academy
Top three score 8.5/10
The tournament was tough because even after ten rounds of Classical chess, three players ended up having the same score in a field of 234 players. IM Dinesh Kumar Sharma faced the remaining podium finishers - Praloy Sahoo and 14-year-old Alekhya Mukhopadhyay. Praloy also remained undefeated throughout the tournament, however Alekhya suffered his only loss of the event against the eventual winner. 13-year-old Sahib Singh 7.5/10 secured fifth place, 14-year-old Subhrajit Dey 7.5/10 was seventh. He gained a massive 229.2 Elo rating points. 12-year-old Sneha Halder 7.5/10 was the only other teenager to secure tenth place among top ten in the final standings. If the youngsters doing well do not inspire you enough, wait till you see 76-year-old Anju Sarkar playing Classical chess and scoring an impressive 5.5/10.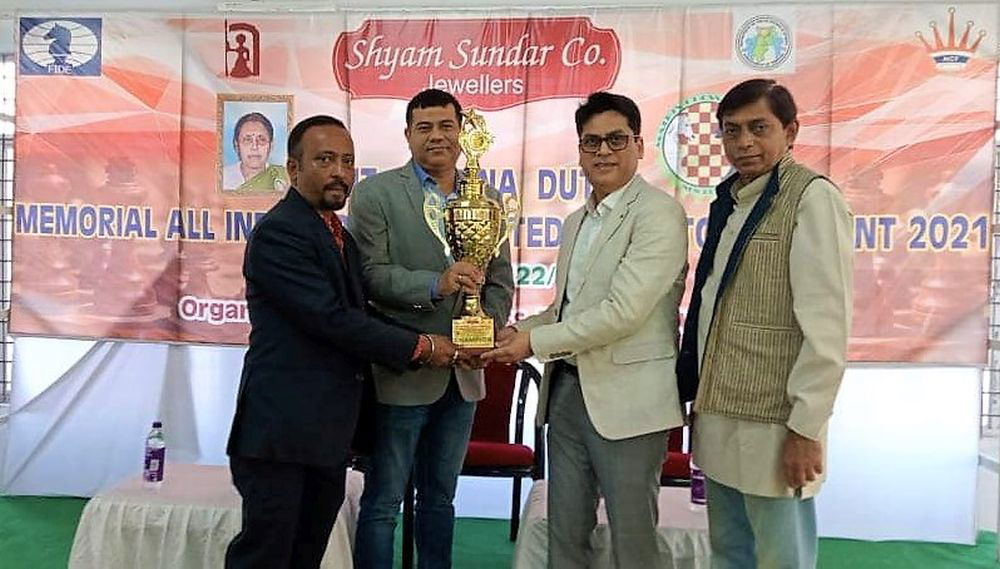 In Round 4, Dinesh scored a nice win against Anushka Gupta (1619).
Anushka - Dinesh, Round 4
The position is absolutely equal. With correct play, White should be able to hold a draw. However, she made a mistake in time trouble.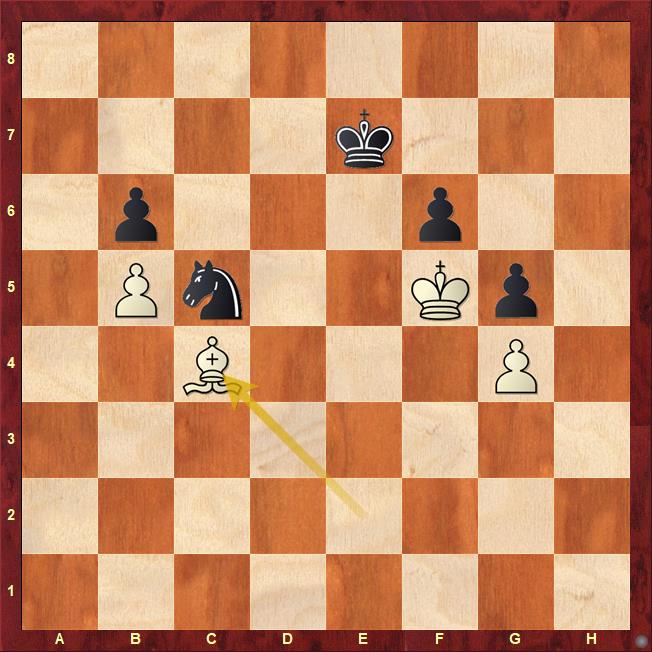 55.Bc4 was White's game losing mistake. Can you find out why? 55.Bf1 would have continued the game a bit longer.
Queen vs Rook ending is another endgame, one needs to know, how to get a Philidor position and sometimes it becomes difficult to attain it. How to win then? Check out the following win by Dinesh against Alekhya Mukhopadhyay (1944) in Round 5.
Dinesh - Alekhya, Round 5
Dinesh shared very important knowledge in his notes - I know one thing that I have to give check from far. Since White's king is on the edge, White has to be extremely careful about attaining a Philidor position because a misstep may result the game in a draw by perpetual check which is also mentioned in his annotations.
Dinesh was in a four-way lead 5.5/7, heading into the seventh round against Rajdip Das (1750).
Dinesh - Rajdip, Round 7
Dinesh shared, Here I thought I had a minus position, but suddenly I got a better position. How do you think White should continue here. Try to think like him and see if you can end up in a better position like he did in the game.
Three players - IM D K Sharma, Rahul Singh Soram and Praloy Sahoo were in the lead 7.5/9, heading into last round. While Dinesh had better tie-breaks, he was in a must-win situation for championship as draw meant anyone winning between Rahul and Praloy would clinch the trophy. A win for Dinesh is a guaranteed championship irrespective of the outcome between the remaining two.
Santu - Dinesh, Round 10
White went all-in with 20.Nxd5. However, there was not enough compensation for him and eventually Dinesh won the game.
Photo Gallery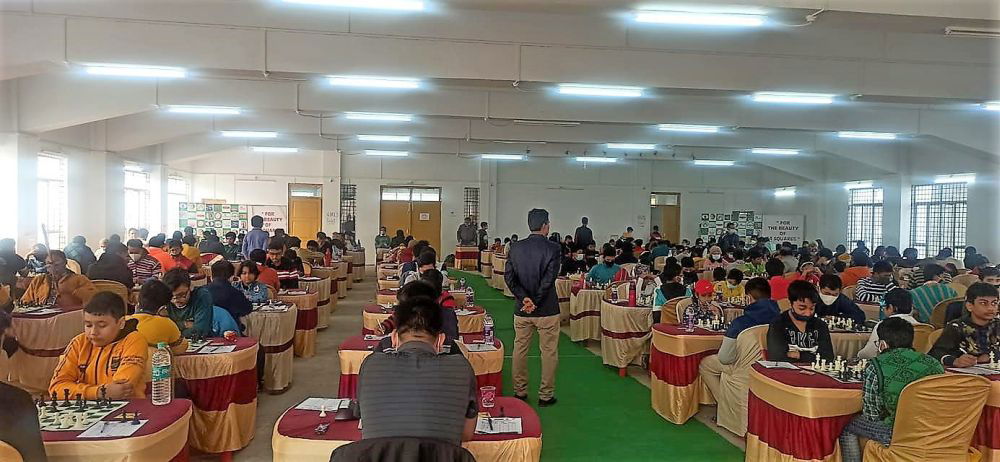 For more photos, please click here.
In the closing ceremony, Mr. Saruju Chakraborty, Ms. Anju Sarkar, Mr. Prabodh Ranjan Dutta and Mr. Rupak Saha were present and distributed the prizes among the prize winners.
The tournament was organized by Matrix Chess Academy from 21st to 26th December 2021 at Agartala, Tripura. A total of 234 players including an IM took part in the ten-round Swiss league Rating tournament which had a time control of 90 minutes + 30 seconds increment from move no.1
Replay games of IM D K Sharma
Final Standings
| | | | | | | | | | | | | | |
| --- | --- | --- | --- | --- | --- | --- | --- | --- | --- | --- | --- | --- | --- |
| Rk. | SNo | | Name | Typ | sex | FED | RtgI | Bdld | Club/City | Pts. | TB1 | TB2 | TB3 |
| 1 | 1 | IM | Sharma Dinesh K. | | | IND | 2287 | | LIC | 8,5 | 64,5 | 70,0 | 58,25 |
| 2 | 10 | | Praloy Sahoo | | | IND | 1984 | | WB | 8,5 | 63,5 | 67,5 | 55,75 |
| 3 | 12 | | Alekhya Mukhopadhyay | U14 | | IND | 1944 | | WB | 8,5 | 59,0 | 63,5 | 51,50 |
| 4 | 2 | | Prakash Ram | | | IND | 2117 | | PUN | 8,0 | 60,0 | 64,0 | 50,25 |
| 5 | 19 | AGM | Sahib Singh | U14 | | IND | 1745 | | DEL | 7,5 | 61,0 | 66,0 | 47,50 |
| 6 | 8 | | Singh Soram Rahul | | | IND | 2000 | | ASS | 7,5 | 61,0 | 65,5 | 45,50 |
| 7 | 117 | | Subhrajit Dey | U14 | | IND | 1131 | | WB | 7,5 | 61,0 | 64,5 | 44,75 |
| 8 | 18 | | Rajdip Das | | | IND | 1750 | | ASS | 7,5 | 60,0 | 64,5 | 45,25 |
| 9 | 20 | | Iftikar Alom Mazumdar | | | IND | 1733 | | ASS | 7,5 | 58,5 | 62,5 | 44,50 |
| 10 | 23 | | Sneha Halder | U12 | w | IND | 1680 | | WB | 7,5 | 58,0 | 62,5 | 44,75 |
| 11 | 16 | | Heikrujam Jacky Singh | | | IND | 1833 | | MANI | 7,5 | 56,0 | 60,5 | 44,50 |
| 12 | 3 | | Santu Mondal | | | IND | 2081 | | CCSCSB | 7,0 | 63,5 | 68,0 | 44,75 |
| 13 | 11 | | Soni Krishan | | | IND | 1959 | | CCSCSB | 7,0 | 63,0 | 68,5 | 45,75 |
| 14 | 4 | | Kumar Gaurav | | | IND | 2036 | | BIH | 7,0 | 62,5 | 66,5 | 44,25 |
| 15 | 15 | | Pradeep Tiwari | | | IND | 1887 | | DASCB | 7,0 | 61,5 | 66,5 | 44,00 |
| 16 | 7 | | Tamang Thendup | | | IND | 2012 | | SIK | 7,0 | 61,0 | 64,5 | 43,25 |
| 17 | 28 | | Abhash Roimya Saikia | U14 | | IND | 1594 | | ASS | 7,0 | 58,5 | 62,5 | 41,75 |
| 18 | 24 | | Ishan Ghosh (Siliguri) | | | IND | 1647 | | WB | 7,0 | 57,5 | 62,0 | 40,75 |
| 19 | 14 | | Bhattacharya Niladri Shekhar | | | IND | 1899 | | WB | 7,0 | 57,0 | 62,5 | 43,00 |
| 20 | 27 | | Anushka Gupta | | w | IND | 1619 | | WB | 7,0 | 57,0 | 61,5 | 39,00 |
---